BEFORE YOU START TO PLAY
REGISTER A USER PROFILE
GAMES
PROBLEMS WITH THE GAMES
RULES OF CONDUCT

BEFORE YOU START TO PLAY
Do not have any other programs or web pages open except the game window.
Close all programs you can that are take up bandwidth on your connection (like P2P programs etc.)
Check and update the antivirus and antispyware software on your computer. Malicious programs take up bandwidth and system resources if your computer is affected.
Install the latest version of Flash Player.
Install the latest updates for your operating system.
Clear your internet browsing history.

Internet Explorer: Tools, Internet Options, General, Browsing History, Delete.
Firefox:  Tools, Clear recent history.
Chrome: Tools, Options, Under the Bonnet, Clear browsing history.

REGISTER A USER PROFILE
To register with Our.com, follow the link http://www.our.com/registrar.php
You must choose a username made up of letters and/or numbers, it must be 4-14 characters long.
The password can be made up of numbers, upper and lower case letters. Minimum length 6 characters.
Once you have completed the registration form, you will receive an e-mail from Our.com. You will have to follow the link in the e-mail to complete the registration and activate your account.

To retrieve your password and username, follow the instructions in the following link http://www.our.com/password_olvidado.php

From the account configuration page you can change the majority of your preferences (your profile photo, your password, your profile etc.).

It is not possible to change your nick or username.

Our person/Mr. Our represents the Our.com team that works continuously to improve the functionality of the web site. He always appears as your friend once you have registered. If you have any doubts, suggestions or comments, don´t hesitate to write him a message.

In your Our.com profile you can upload photos and videos that can be added to your profile so that other users can see them. (Maximum 12 albums, each album can contain 16/17 photos). If any users have any photos that contravene the rules of behaviour of Our.com you can report them with the Abuse button.

To cancel your account with Our.com, send a message to with the subject "Cancel account" with your name, password and the reason for cancelling your account.

GAMES
For almost all of the games at Our.com the instructions are available in the game on the instructions tab, or by clicking on the button "Game Rules" as shown in the following screenshot.

In all of the games you can see the following information from the Our.com profile of the players:
Game level and points for each game
Ranking for each game
Karma level
Statistics
Time invested
Furthermore you have the option to Challenge (if you want to play a game with a specific user), Ignore (if you don´t want to receive messages from this user) and Chat (private chat with a specific user).
As you win games and gain experience you increase your Game Level. Try playing with users of the same level or higher to get a higher score.
The Our.com ranking uses the ELO scoring system. In each game you can see your points and rank. There are different rankings: Ranking ELO (overall, by month, by week) and wins ranking. In some games you can see the highest scores for training, highest multiplayer scores and best times.
Depending on which country you come from when you start a game you will be redirected to a room of your language. You can manually change the game room if you wish.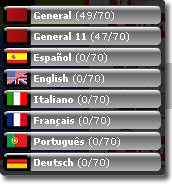 During games there is the possibility to leave the game through the abandon button. If the game allows abandonments, you won't be punished either with points or with Karma. If the game doesn't allow abandonments you will be punished by losing points or Karma.

Karma measures your level of honesty as a player. Generally someone with a high Karma level doesn't abandon a game even when they are losing. Karma is represented by an icon associated to every player. The Karma levels are as follows:
Each time you finish a game correctly your Karma will be increased in accordance to the length of the game. When you abandon a game improperly your karma level will be considerably lowered en accordance with the length of the match.
Angel
Very Honest
Honest
Neutral
Cheater
Big Cheater
Devil

(karma greater

than or equal to 100)

(karma between 60 & 100)
(karma between 15 & 60)
(karma between -15 & 15)
(karma between -60 & -15)
(karma between -100 & -60)
(karma less than -100)
The Bug button is there so that the users of Our.com can communicate with the Our.com team. They can use to send their suggestions, improvements, complaints, bugs etc. that occur whilst playing the games. This button will help us to improve the web site.

In all of the games you have the option to create your own game. You can modify the game time, turn time, number of players, level of Karma of the players, etc.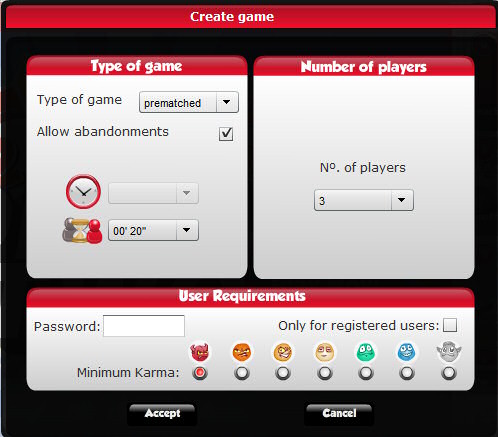 PROBLEMS WITH THE GAMES
Possible causes:
You are not connected to the internet

You have more than one game window open at the same time

You have been banned for breaking the rules

The server is temporarily unavailable.
Wait a few minutes then refresh the page.
Remember to enter your password exactly as you wrote it when you registered.
If you have forgotten your password or your username, follow the instructions in this link http://www.our.com/password_olvidado.php

The causes of losing connection in the middle of a game are many and complex, the most likely causes are:
You lost your connection. This is usual with slow connections or poor quality connections. Solution: Reconnect to the internet.
Your bandwidth is saturated due to other downloads and there is not a strong connection with the Our.com server. Solution: Close down any internet sessions that you are not using.
Some servers may be switched off (Maintenance o technical problems). Solution: Wait a few minutes then refresh the page.
When, during a match, the connection is lost the system treats the game as though it was abandoned. 

RULES OF CONDUCT
The Rules of the community of Our.com are based on two key principles:

Playing fairly and clean. Removing cheats.
Respecting all of the users of the Our.com community.
Rules of photos and videos in Our.com community
Do not upload photos/videos that infringe on copyright or that contain:

Nudity or pornographic images
Obscene or offensive gestures
Explicit violence
Political or religious symbols
Matters considered in bad taste or that disrespect other users
 Xenophobia, racism or disrespect to national groups.

The photos/videos that do not comply with these simple rules will be deleted. You can report photos/videos that break the rules of Our.com using the Abuse button that is on the profile of every user.
Rules concerning the names of users
Names that will not be accepted in the Our.com community are names that can be considered to be or contain connotations of the following:

Insults or slurs
Paedophilia
Racial or ethnic
Sexual, pornographic or sexual orientation
Obscene or bad taste
Political or national
harassment of other users
Illegal activity

In the Our.com community there are many users from different countries, try to avoid using names that could offend people of other nationalities. We reserve the right to evaluate each case on its own merits. Any account that is considered to have broken the rules of conduct can be suspended without prior warning. 
Rules of conduct for Our.com Chat
Rules of conduct for chat. The following are considered inappropriate conduct for Our.com Chat:

Insults, verbal attacks, accusations of other users of Our.com
Spam

If someone insists on continuing this behaviour they can lose the right to use Chat or even be banned from the website.
There is the option to "ignore" someone in cases where you don't want to read what they write in chat. You can ignore any user of Our.com and their text will not appear in your chat.